Women's
Welcome to Women's Ministry
We have a variety of Bible studies, gathering options and more...see below for details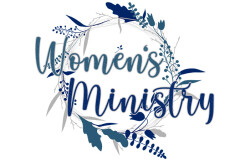 Upcoming Events for Women's Ministry...
Christ-Centered Yoga
Mondays through June 6 from 6:30-7:30 pm in the North Building Room 105
Yoga will break for the summer and resume in August. Please see our calendar for more details.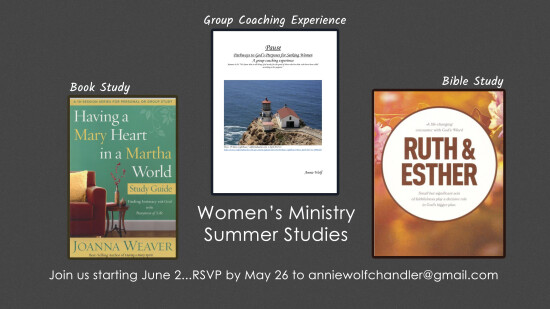 Starting June 2... Women's Summer Studies - RSVP to Annie
We are offering three options for summer studies;
1. Bible Study "Ruth & Esther", book cost is $9.99 and this study will be led by Carol Dawley.
2. Book Study "Having a Mary Heart in a Martha World", book cost is $9.99 and this study will be led by
Barbara Gagnon and Sheila Meyer.
3. Group Coaching Experience "Pause, Pathways to God's Purposes for Seeking Women" the materials are free and this study will be led by
Annie Wolf and Donna Peters.
Be sure to RSVP by May 25 and order your materials in advance (Amazon carries the books) to . All women are welcome!
Potluck and Poolside Fellowship-RSVP to Annie
June 16 from 9:00 am-11:00 am
At the home of Jane Zehnder
Brunch - RSVP to Annie
June 23 from 9:00 am-11:00 am
We will meet at First Watch, Chandler
Join us on our private Facebook page by clicking the link below.
This month we are looking at "Prayer"
Women's Ministry Facebook Page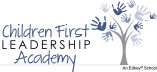 Children First Leadership Academy
This is a local school that Women's Ministry provides support throughout the year for k-12 kids.
---
Lutheran Women's Missionary League (LWML)
This groups is currently on a break from meetings. Look back the Fall of 2022 for more information.
This group meets the second Thursday of the month at 1:00 pm in SB Room 110. There is no cost to attend. Contact Verla for more information at 480.883.2762.
---
PIECE MAKER QUILTERS
Please see the Calendar for this group's Wednesday meeting schedule. This group is open to everyone, the quilts they make are given to the homeless and needy in the local Chandler area.
For more information, contact Sandra at 480.207.6177 or Barb at 480.814.8441.