Women's
Welcome to Women's Ministry
We have a variety of Bible studies, gathering options and more...see below for details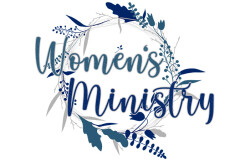 Upcoming Events for Women's Ministry...
Nature Walk and Devotions with Mayoress Lynne Hartke
October 11 & 25 from 9:00 am – 10:00 am at Snedigar East Park.
This park is surrounded by beautiful ponds and wildlife to see. All women are welcome to join us for this time to connect! RSVP to Annie.
Guest Speaker, Lynne Hartke is Back!
October 13 at 9:00 in the NB Multi-Use Room.
"What If the Interruptions Are Your Life? "How do you respond to life's interruptions? Are you a "go with the flow" type of person, or do unplanned events cause your blood pressure to rise? How did Jesus handle life's interruptions? Let's explore the topic together."
Women's Ministry Christ-Centered Yoga
Mondays from 6:30 – 7:30 pm

AND

Wednesdays at 10:00 am in the North Building.
Nurture your body, mind, heart and spirit. Please RSVP as space is limited. Please bring a mat (if you have one) and wear comfortable clothing. RSVP to Dawn at .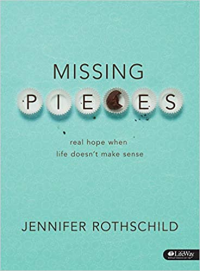 Thursdays: "Missing Pieces: Real Hope When Life Doesn't Make Sense" By: Jennifer Rothschild
Two ways to participate:
In-Person
Thursday's 9:00 am-11:00 am in the
North Building, Multi-Use Rooms
Buy a copy of book in-person or Amazon
Opt into weekly encouraging emails/texts
Self-Study:
Buy a copy of book on Amazon or book sale today in the lobby.
Follow along with syllabus
Opt into weekly encouraging emails/texts and j
oin us for a closing evening celebration.
Experience unexpected peace in spite of unexpected heartache.

Hang on to God's answers when you feel you are at the end of your rope.

Move forward when you feel stuck in your circumstances.

Have a greater sense of peace through every storm you face.

Strengthen your faith when you feel beat down by life.

Survive unexpected storms knowing God is in your boat.

Experience stability when tidal waves of emotion hit.

Trust God more than your feelings.
Purchase a copy of your book on Amazon and be sure to RSVP to:
Join us on our private Facebook page by clicking the link below.
This month we are looking at "31 Days of Hope"
Women's Ministry Facebook Page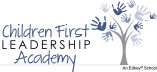 Children First Leadership Academy
October Mission:
We are
collecting Thanksgiving meals for the children's families again this year. Below is a list of items that can be purchased and brought into the Church Office in bags. If you would like to help, but cannot go shopping, they are also accepting donations ($25 per meal/family). Donations can be made on our website under the Give Link. Drop off all meals/donations off throughout the month of October
.
Drop off $25 for a meal OR by October 31 at the Church Office.
2 Cans Yams or Sweet Potatoes
1 Can Whole Corn
1 Can Whole Cranberry Sauce
2 Cans Cream of Mushroom Soup
1 Cake Mix/Cookie Mix/Brownie Mix
1 Container of frosting
2 Box Stuffing (regular size)
1 Box Mashed Potatoes (regular to large size)
1 Can French Fried Onions
1 Cornbread Mix (regular size or 2 small)
This is a local Chandler school that teaches homeless children and provides basic needs for them. The Women's Ministry provides support throughout the year for k-12 kids.
---
Lutheran Women's Missionary League (LWML)
This group meets the second Thursday of the month at 1:00 pm in SB Room 110. There is no cost to attend. Contact the Church Office with any questions.
---
PIECE MAKER QUILTERS
Wednesdays at 9:00 am in the Fellowship Hall.
This ministry gathers every Wednesday to sew quilts for those in need. Anyone who has questions or would like more information about joining this group should contact Sandra at 480.202.5772, Dottie 480.759.0977 or Gail 805.404.7604.