Women's
Welcome to Women's Ministry
We have a variety of Bible studies, gathering options and more...see below for details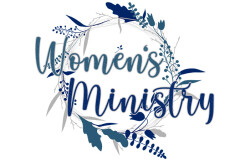 Upcoming Events for Women's Ministry...
Christ-Centered Yoga-Mondays at 6:30 pm in the North Building.
Please RSVP as space is limited. Please bring a mat (if you have one) and wear comfortable clothing. RSVP to Dawn at .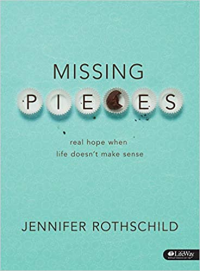 Thursdays: "Missing Pieces: Real Hope When Life Doesn't Make Sense" By: Jennifer Rothschild.
Two ways to participate:
In-Person
Thursday's 9:00 am-11:00 am in the
North Building, Multi-Use Rooms
Buy a copy of book in-person or Amazon and o
pt into weekly encouraging emails/texts
Self-Study:
Buy a copy of book on Amazon or book sale today in the lobby.
Follow along with syllabus
Opt into weekly encouraging emails/texts and j
oin us for a closing evening celebration.
Experience unexpected peace in spite of unexpected heartache.

Hang on to God's answers when you feel you are at the end of your rope.

Move forward when you feel stuck in your circumstances.

Have a greater sense of peace through every storm you face.

Strengthen your faith when you feel beat down by life.

Survive unexpected storms knowing God is in your boat.

Experience stability when tidal waves of emotion hit.

Trust God more than your feelings.
Purchase a copy of your book on Amazon and be sure to RSVP to:
Women's Lunch & Learn
February 17 from 11:00 am – 12:00 pm in the NB Multi-Use Room.
Come a few minutes early for fellowship, check in is at 10:45 am. Dawn Hopkins will be our guest speaker this month. Be sure to bring your own lunch.
Mindful Eating Workshop 8-Week Series
Begins February 6 from 12:00 pm to 1:00 pm Online or Zoom.
Heal your relationship with food! Do you eat for reasons other than hunger? Has your eating become mindless? You're not alone and this series can help you heal and transform your relationship with food using proven strategies for long-term success. Cost is discounted to $150 (usually $350) with code "RISEN200" $150.
---
Women's Evening Bible Study: Quenched (by His Word)
This study meets every 2nd and 4th Tuesday of the month at 6:30 pm in SB Library.
It's not too late to join our new study, Together We Believe: A Study of the Apostle's Creed. Please pray about joining us, all women are welcome. Contact Ruth Ann 480.393.3801 with any questions.
Join us on our private Facebook page by clicking the link below.
Women's Ministry Facebook Page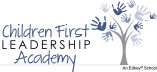 Children First Leadership Academy
This is a local Phoenix school that teaches homeless children and provides basic needs for them. The Women's Ministry provides support throughout the year for k-12 kids.
February Mission: Valentine's Day Candy Collection
February 1-9 Drop-Off Items at the Admin Building.
Please bring in bags of individually wrapped Valentine's Day candy for the Children First Leadership Academy. This candy will be given to the kids to celebrate at their Valentine's Day party.
---
Lutheran Women's Missionary League (LWML)
This group meets the second Thursday of the month at 1:00 pm in SB Room 110. There is no cost to attend. Contact the Church Office with any questions.
---
PIECE MAKER QUILTERS
Wednesdays at 9:00 am in the Fellowship Hall.
This ministry gathers every Wednesday to sew quilts for those in need. Anyone who has questions or would like more information about joining this group should contact Sandra at 480.202.5772, Dottie 480.759.0977 or Gail 805.404.7604.