Established in 2010, RSLCS Foundation, Inc. is a 501c(3) organization that receives gifts and bequests in support of Risen Savior missions and ministries.
Gifts and bequests are managed and invested by professional money managers, preserving principal while earning interest, dividends and capital appreciation. All funds are maintained separately and independently from all other Church funds.
Approved grant distributions are made by the Foundation's Board of Directors, all of whom are members of Risen Savior Church. If you have any additional questions or would like to speak with a board member, contact the Church Office at 480.895.6782.
---
Every Gift Matters
As steward of your earthly God-given gifts and blessings, you may wish to include RSLCS Foundation in current financial planning, as well as a Beneficiary in your Estate Plan.*
Ways to Give
Gifts of cash, a heartfelt annual gift to bless Risen Savior Ministries

Contributing a portion of your IRA Required Minimum Distribution (RMD)

A Charitable Gift Annuity

Gifts and Bequests from Wills and Trusts; a specific dollar amount, or gifting a percent of your estate's value or specifying a particular asset as the source

Gifts of–Real Estate, Stocks or Bonds, Life Insurance
*RSLCS Foundation does not provide legal or tax advice. Please consult with your legal counsel and tax advisor to ensure your Will and Trust are up-to-date and gift decisions are tax-wise.
---
March 2022 the RSLCS Foundation awarded the RS Youth Ministry $5,000
to go towards summer IYG trip expenses.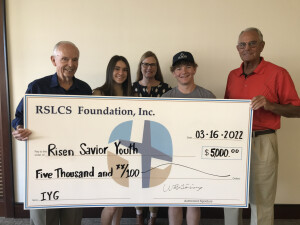 ---
RSLCS Foundation, Inc. Board of Directors
Duane Anderson, President
LeAnn Fekjan, Vice-President
Bill Giessing, Secretary/Treasurer
Mike Andrews
Gary Horkey
Gary Lawrence
Norm Riffel
Rev. Ron Burcham, Ex-officio