Our Vision
Vision Frame for Risen Savior Lutheran Church
Chandler, AZ
Mission Mandate
Engaging all generations to be passionate followers of our Risen Savior.
Core Values
Message over Method
Because the gospel is the power of God for salvation to everyone who believes we communicate God's word in a compelling and effective manner using all means possible. From Forum to fellowship, from sermon to service, from mission to ministry God's word is infused in all we do.
Romans 1:16, I Corinthians 9:22-23, I Corinthians 9:16, II Timothy 3:16-17, II Timothy 4:1-2
Devotion over Duty
Because new life in Christ is a gift from God we respond by dedicating our lives to Him not out of obligation, but from a genuine desire. Eagerly gathering together as the body of Christ for worship and building our relationship with God through His word and in prayer we grow to be more like Him each day.
Acts 2:41-42, II Corinthians 8:1-5, Romans 12:6-8, John 14:12
Courage over Complacency
Because we have seen God at work among us, advancing His kingdom, we are action oriented not satisfied with the status quo. Pursuing where God is leading us, giving generously, and working tirelessly we long to see the God given results.
Acts 4:12-13, Deuteronomy 31:4-6, Joshua 24:6-15
Grace over Guilt
Because Jesus came to save the world not to condemn it we show His unconditional love for all people. Creating a warm and welcoming environment is not only something we do, it is also a vital part of who we are in providing a place where you can experience God's love through His people.
Acts 2:42-47, Romans 15:5-7, Romans 12:9-13
StRategy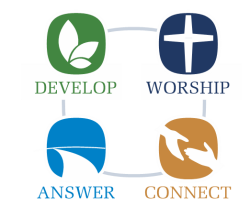 Measures
Faith of a Child
Fearlessness of a Teen
Standing firm/Bold witness
Generous in seeking knowledge
Listening without judgment
Maturity of an Adult
Obedience in discipleship
Compassion/Serving
Praying
Wisdom of an Elder
Discernment
Forgiveness
Legacy