ALPHA Study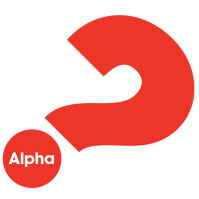 In a world of isolation, anonymity, and keyboard-warriors, ALPHA offers guidance for individuals to create a space for honest and open conversations about life's biggest questions. Do you know someone who has "Big" questions about church and God?
Who is Jesus?
Why and how do I pray?
These questions and more is what this study is about. This course is geared towards the unchurched or VERY new to attending church-be sure to share with your friends. If you are someone this study was shared with...WELCOME!!!
Watch the trailer for more information...and then follow the 3 simple steps below!
1. To Sign-up - Complete the Google Form with this link - Click Here to Sign-Up
2. Additional Questions or having issues with the Google Form? email
3. Invite others who you know with questions that want to partake in discussions and meeting others that also seek answers, simply send them to our webpage.