Our History

The Year was 1980
It was against a backdrop of pop culture, technological breakthroughs, exploding population growth, politics and commerce that
a pathway of blessings began
for Risen Savior Church & School.
3M introduced its latest product called
Post-It Notes.
A gallon of gas
cost $1.19.
Intel
began manufacturing the Intel Pentium processor set of products in Chandler, Arizona, where the population reached a new high of 30,000.
Ronald Reagan was elected President of the United States of America.
Then, just a few days later on Sunday, November 30, 1980, nine people gathered at the home of Herb and Lil Ebert for the first worship service which was conducted by Vicar John Raddatz.
A Pathway of Blessings Begins
1981
Beginning March 15, worship services were moved to the newly-constructed All Faiths Chapel in Sun Lakes. A drawing was held to determine the worship time for all congregations using the Chapel, and we drew 7:15 am. The rent was $75.00 each month.
In December, the Mission Committee was formed focusing on the world, the United States and local projects.
Fast Forward to 1992
Euro Disney
opened in France.
A
text-based browser
was introduced to the public marking the beginning of the World Wide Web.
DNA fingerprinting was invented.
Johnny Carson hosted the Tonight Show for the last time after ruling late-night television for 20 years.
A first-class postage stamp cost 29 cents.
Ministry Takes Shape
By 1992, Fellowship became a priority among members of our growing congregation. The Women's Fellowship Circle was eventually chartered as the Lutheran Women's Missionary League (LWML) of Sun Lakes Lutheran.
Sun Lakes Lutheran became a mission congregation under the auspices of Epiphany Lutheran Church on March 21st.
In June, the church rented an apartment on Fairway Boulevard (east of Riggs & Sun Lakes Blvd) to serve as a church office.
Pastor Harold Teuscher was installed on October 18, 1992.
1993
The first children's Sunday School took place in the Poker Room at the Sun Lakes Country Club. At the same time, the Bible study group met in the Sundance Room at Cottonwood.
The church's constitution was adopted December 15, 1993, and later revised in November, 2005.
1996 & 1998
On April 11, 1996, voters approved the purchase of 3.42 acres from the Pacific Southwest District for $253,000. Then on February 10, 1998, voters approved the purchase of .853 acres from Ed Robson for $43,000. These two properties comprise the current church, school, offices and meeting rooms.
Membership increased to over 350 people. In December, 1998, voters chose Risen Savior as the new church name which became effective immediately.
1999
Voters adopted building plans in February. Building began on Palm Sunday, March 28th, as the "Forward in Faith" ceremony featured groundbreaking with a farmer's plow.
A New Millennium
2001
Apple Computer released the
iPod.
The unmanned solar aircraft
Helios
reached a record height of over 18 miles above the earth.
A gallon of gas cost $1.46.
Wikipedia, a Wiki free content encyclopedia, went online.
Chandler Fashion Center
opened.
Moving into a New Era
The first worship service was held in the new church on Easter Sunday, April 1, 2001. Harvey Zehnder, then property chairman and later president of the congregation, was handed the key and opened the door.
The beautiful new facility was dedicated on May 6th.
The Memorial Garden was opened.
2002 – 2003
In September 2002, Risen Savior's Pre-School opened its doors with a mission to "Connect Children to Jesus." By 2003, six additional classrooms needed to be built.
2004
By February, 2004, 188 children were enrolled in the Pre-School and Kindergarten. In 2007, a second story was added as well as a computer lab.
On March 1, 2004, The Perfect Place began providing respite for caregivers in a safe, structured social environment for older adults.
2009
In February, the voters of Risen Savior approved the creation of a Foundation through which members can express the deep gratitude for God's many gifts and blessings to them.
A Lutheran Braille work center was established where trained volunteers print the Old Testament book of Leviticus helping the visually impaired "touch the promises of Jesus."
2011
The 4% yearly growth in attendance increased to 7% in 2011.
Risen Savior's new discipleship process called "Worshiping, Growing, Serving" was created.
A New Season
2012
Michael Phelps
won his 19th Olympic medal becoming the winningest athlete of all time.
Individual
spacecrafts
arrived at their final destinations (after the Space Shuttle flew for the last time in 2011).
Barack Obama
was elected President of the United States and
Windows 8
was released.
The
population of Chandler
reached more than 240,000 as the City celebrated its 100th Anniversary.
Onward and Upward
From January 1st to Easter, attendance increased by 10.3%.
Reformation Sunday marked Risen Savior's 20th Anniversary celebration.
In December, church members voted to purchase 5 acres of land along with a vacant bank building from Ed Robson for $1.8 million. A new horizon opened allowing the members of Risen Savior to Connect People to Jesus and reach the community.
2013
On Easter Sunday, members of Risen Savior looked to the future pledging $1.95 million dollars to the Pathway Stewardship Campaign.
A 6th grade class was added to Risen Savior Elementary School in the Summer of 2013.
On August 18th, members unanimously voted to call Rev. Ronald Burcham as their new Senior Pastor. His Installation Service was held October 20th and his first sermon at Risen Savior was preached on Reformation Sunday, October 27, 2013.
2014
The former bank building became home to The Pathway Center which was dedicated on Sunday, March 30. The dedication marked the beginning of a new season in our growing ministry of "Connecting People to Jesus."
Due to low enrollment, the Board of Education concluded that Risen Savior will no longer offer elementary classes.
In May, members unanimously voted to call Joel Endicott as the new Director of Worship. Joel was formally installed during worship services on Sunday, June 29, 2014.
The Church Office moved to a beautiful new office space in The Pathway Center on Friday, July 11.
In October, members voted unanimously to call Rev. Mark Hoffmann as their new Associate Pastor of Congregational Care. Pastor Hoffmann was formally installed on Sunday, November 9, 2014.
2015
Ministry teams continue to thrive. The Piece Maker Quilters group makes six to nine quilts weekly to send to people in need around the world.
We hosted our first Novemberfest to welcome our snow bird members back.
The patio is alive with fellowship where an average of 16 dozen donuts are provided every Sunday. The Fellowship Committee has responsibility for the kitchen, coffee hour and rummage sale. It also sponsors the Father's Day Pancake breakfast and Christmas dinners.
The Landscaping group meets on Thursday mornings where they can be seen mowing grounds, trimming bushes and pruning roses.
2016
Donald Trump was voted in as the 45th President of the United States.
This was the year of renovations and remodeling. We added new carpeting, paint, LED lighting throughout our two buildings and more. Our school also added a kindergarten class.
2017
We celebrated 25 years of God's Faithfulness. Here is a glimpse of that history...
2018
Held Our Next Step...Capital Stewardship Campaign for the North Property Ministry Expansion. Raised 4.2 million dollars in pledges. We introduced our new logo and mission; Engaging all generations to be passionate followers of our Risen Savior.
2019
March 10, 2019 we were blessed to have a long line of members coming into the Sanctuary to be a part of Risen Savior's history.
85% of the 227 voters approved
moving forward with the Ministry Expansion on the North Property. The new building on the north property will have a contemporary Worship Center, commercial kitchen, additional parking, classrooms, youth center and more.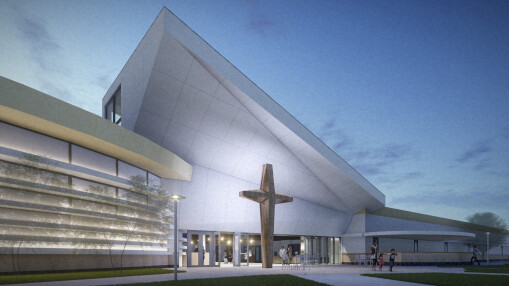 The Year the COVID-19 Pandemic Hit the World
2020
The world experienced a world-wide pandemic, COVID-19, with masks, hand sanitizer, toilet paper and Clorox products being wiped off the shelves. After a release of 3 vaccines, the slow transition began to go back to normal. We shut down the church for a short time and remained social distancing for over half of the year. Joe Biden became the President of the United States.
During the pandemic, we pushed forward with completing the North Building/Worship Center and prepared to open the facility in the beginning of 2021. This was also the year we began livestreaming services and offering Drive-Thru Communion to serve our members during this challenging time.
2021
The North Building Dedication happened on February 7, 2021. This gave the congregation a chance to tour the entire building and to hold special services that were also livestreamed. After a long compaign and then a pandemic, this was a great celebration with expanding the kingdom!
We opened the building with social distancing but, by the end of the year we were fully back and excited to worship side-by-side again. Pre-panemic attendance is about half and slowly climbing.
This was the first year we had our family "Jingle Jam" event and it was a huge success and wonderful to get an opportunity to invite our neighbors over for an evening of family fun.
2022
Gas prices have soared to an average of $4.59 in the Phoenix area and we are at record breaking 10% inflation. Our attendance at church is back to pre-pandemic levels and growing. We have continued livestreaming services and this will remain as a way to worship with our church.
What's Next...?
God has a perfect plan and we're excited to see where He leads us!