Every Sunday from 04/16/2017 to 05/07/2017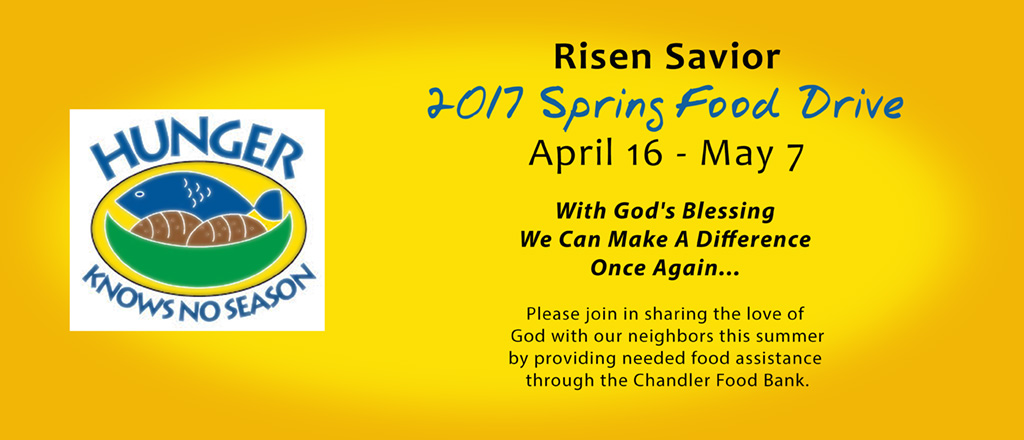 Each Spring we ask God's blessing and join together as one to help the Chandler Food Bank stock its shelves for the summer months, when donations are at their lowest. Please begin bringing your food donations to church this Sunday!
Since the Spring of 2014 we have conducted nine food drives that have combined to deliver almost 20 tons in food assistance to our Chandler neighbors in need through the Chandler Food Bank. God has truly blessed these programs to serve others.
This year, the Food Bank has suggested we donate:
Cereal ... Oatmeal ... Canned Fruit ... Rice ... Peanut Butter ...
Canned Vegetables ......Canned Soup ..... Tomato Sauce ..... Pasta ...
Dry Beans .... Canned Beans .... Flour ......
Mac & Cheese ... Sugar ... Cooking Oil ...
Juice ... Boxed Meals ... Canned Milk
If it is easier for you to bring your food to the church during the week, there will be collection boxes on the patio from 8:00 am to 5:30 every day through noon May 7th. We will place your food donation on the Chancel surrounding God's Altar.
Please join together and help us ensure that our less fortunate neighbors have plenty of food this Summer.